FAQs



















1. How do I use URR to prepare for the registry?


The best advice for using this site to pass your registry.....Complete the package!
Each national registry exam offers questions on the topics listed on the exam outlines offered by the ARDMS or CCI websites. The materials on URR are based on those exam outlines. The course contains detailed information on the topics listed on the exam outlines. The practice questions are created in the same style as the registry exam. We do not offer practice questions that are duplicates of the registry questions. If you are seeking materials to memorize and regurgitate at the exam, we are not the best choice to meet your needs. URR will assist you in learning and understanding the information necessary to acheive success on the registry exam.
The URR registry review products were designed to be completed in a 1-2 month time frame. While we do offer an extension option for the full site packages, we really do not want you to use the option. ☺ The best method of preparation is to immerse yourself in the review materials over a period of a month or two. This will help with comprehension and retention of the information.
1. Read the review course over a period of 7 - 14 days. If there are 15 chapters in the course, read 1-2 chapters a day to stay on track. The goal of the review course is to give a detailed explanation for all topics covered. After reading the course, you should have a basic understanding of the topics presented.
2. Complete the click to learn (CTL) exams over a period 14 -21 days.If there are 1000 questions total in the CTL exams, complete 50-75 questions each day to stay on track. Each question provides the correct answer and explanation with each answer given. These exams help to reinforce the information learned from the course and evaluate your ability to apply it to the exam questions. Once the questions have been completed in the CTL exams, a mock exam should be used to assess registry preparedness.
3. Repeat the mock exams until you achieve a passing score. Try a single mock exam to assess your retention of the materials and your ability to apply it to the registry. If you pass the exam, take another mock exam. If any mock exam is unsuccessful, review the questions that you missed and return to the click to learn exams and course topics associated with the topics of the missed questions. Repeat this process until you pass all the mock exams successfully!
2. How do I become a Registered User?
Go to the Registry Preparation tab and choose the specialty you wish to access. Select the Register Now button and the New User Request form will open. After you complete the form, the available products will be displayed. Make your selection from the desired specialty and Add to Cart. Use the checkout function to complete your purchase. You will be given the option to use your Paypal account or your credit/debit card for payment. Once your secure payment has been processed/approved, a user name and password will be sent to the email address that you provided on the payment page. Site access begins on the date of purchase. Your access to the site will be limited to the course and/or practice tests selected at the time of registration.
3. I am taking the CCI registry that contains questions related to both Vascular Techniques and SPI topics, do I need to purchase both course packages to prepare for the RVS exam?
Our Vascular Sonography and Adult Echocardiography courses and exams do offer a limited review of Sonography Principles and Instrumentation. Because the CCI combines SPI and Vascular Techniques into one exam, we also offer a SPI + Specialty combination package that may meet your needs for a more comprehensive physics review along with the specialty of your choice. The package offers access to the Vascular course and the SPI course. You will also receive access to the click to learn exams and mock registry exams for Vascular Technology and SPI. This option is also available for Adult Echocardiography and all other specialties.
4. I purchased the one month full site access package but did not have time to complete all of the course and exams. Can I get an extension of my subscription?
Any user that purchases a full site package ( 1 month, 2 months or Combination SPI +Specialty) can request an extension of access at a reduced rate of $25 per month. You can purchase an extension at any time from the registry review course index page inside each specialty. You will also receive an email a few days prior to your current expiration date offering the extension. Site access must be continuous and you will be granted an extension that is one month from your original expiration date. If your account has been expired by more than 30 days, it will be deleted and cannot be reactivated for an extension.
After passing your registry exam, you may still extend your access to the course materials for as long as you would like to use it as a reference, but the practice exams will be removed from your account.
5. My subscription expired. Can I still extend it?
If you have access to the full site package (course, click to learn exams and 4 mock registry exams) AND it has been less than 30 days since your access expired, we do allow you to reactivate your account. Please email us to request reactivation. Please keep in mind that in order to use the extension option, your access must be continuous from your original date of access. If you choose to extend your account, your new expiration date will be one month from the date it expired.
6. Can I share my access with another Sonographer?
The Terms and Conditions of subscription access to the site are available on the registration form. Dissemination of any of the materials on the site, including user log in information, is strictly prohibited and can be considered a violation of U.S. copyright law. Subscriptions are limited to use by the individual registered for the account.
7. Do you guarantee that I will pass my exam?
While we cannot guarantee that you will pass, we do stand behind our products as an effective tool for registry preparation. We offer a product guarantee for our full site subsciptions ( 1 month, 2 month or Combination SPI +Specialty). If you complete the products in the package and are unsuccessful on the registry, you are eligible to repeat the materials purchased in the original subsciption at no charge. For example, if you purchased and completed the 1 month full site package for the Breast Sonography Registry Exam and did not pass, you may repeat the 1 month package at no charge.
To request repeat access, we ask that you submit documentation of the date of your recent registry exam. The first page of the print out from the exam can be submitted via email (or mail). A list of attempted registry exams is also available in your ARDMS® or CCI® account associated with your registry number on their site. When submitting the requested document, please specify the date that you would like to reactivate your access to repeat the original package. Complimentary repeat access can be requested anytime within one year after the date of the registry attempt.
8. Can I get a refund for my access if I change my mind about using the URR study materials?
We do offer a full refund with our order cancellation policy. We will provide a full refund for our products under the following circumstances: 
the order cancellation request must be received within 7 days of your purchase
the account has not been accessed using the username and password provided by URR
we do not offer partial refunds for any courses or exams that have not been completed upon expiration of your account
9. I do not have a Paypal account. Can I still purchase a subscription?
You do not need to have a Paypal account to make a purchase. Please review the images below for further assistance in completing your purchase.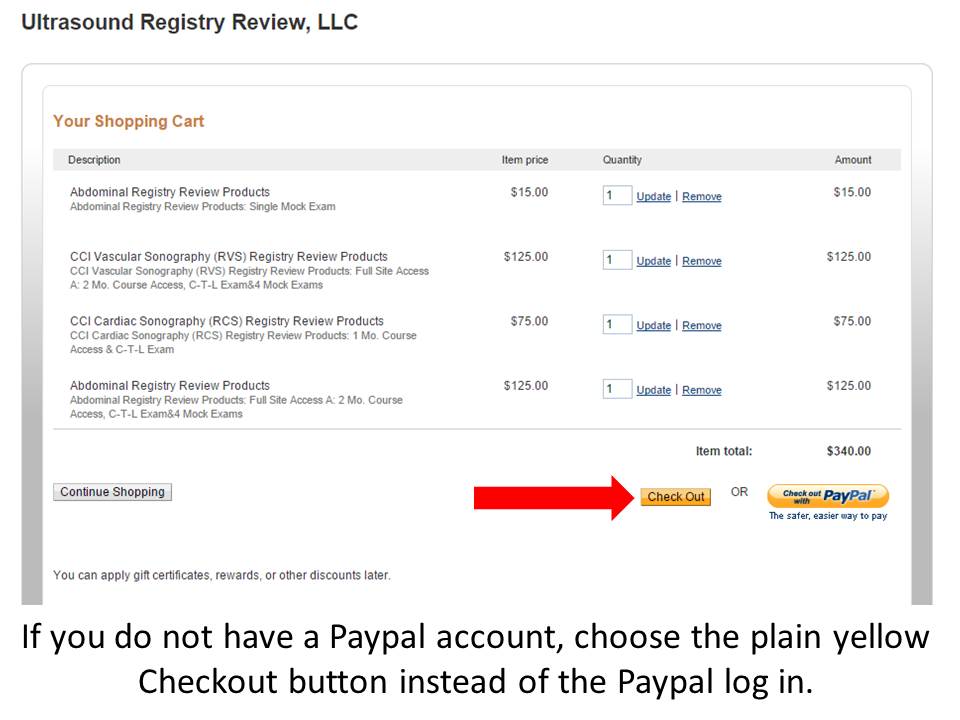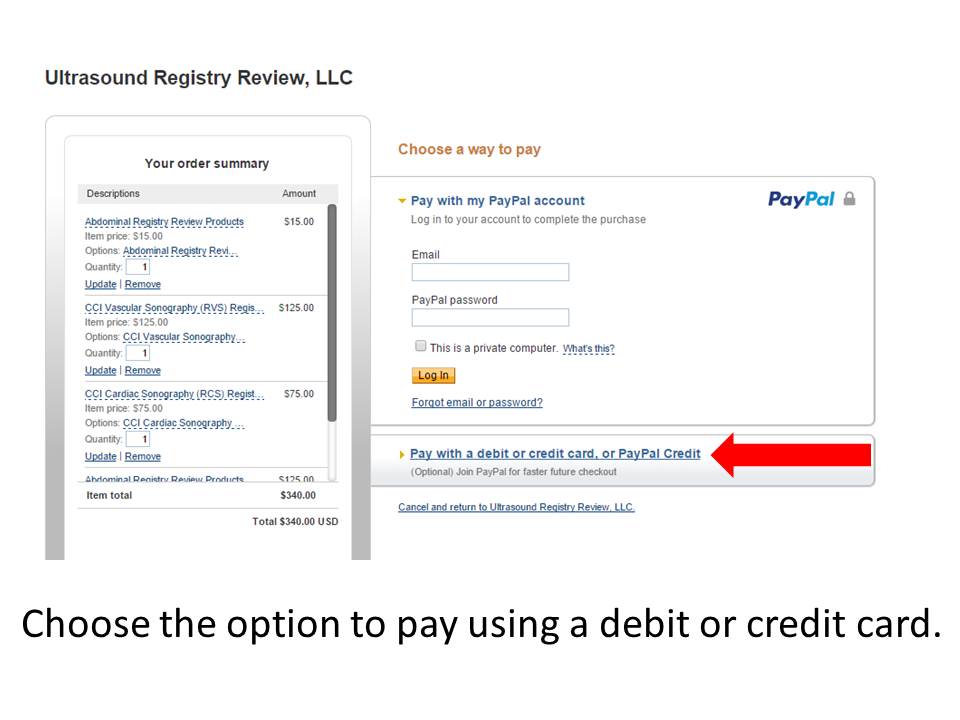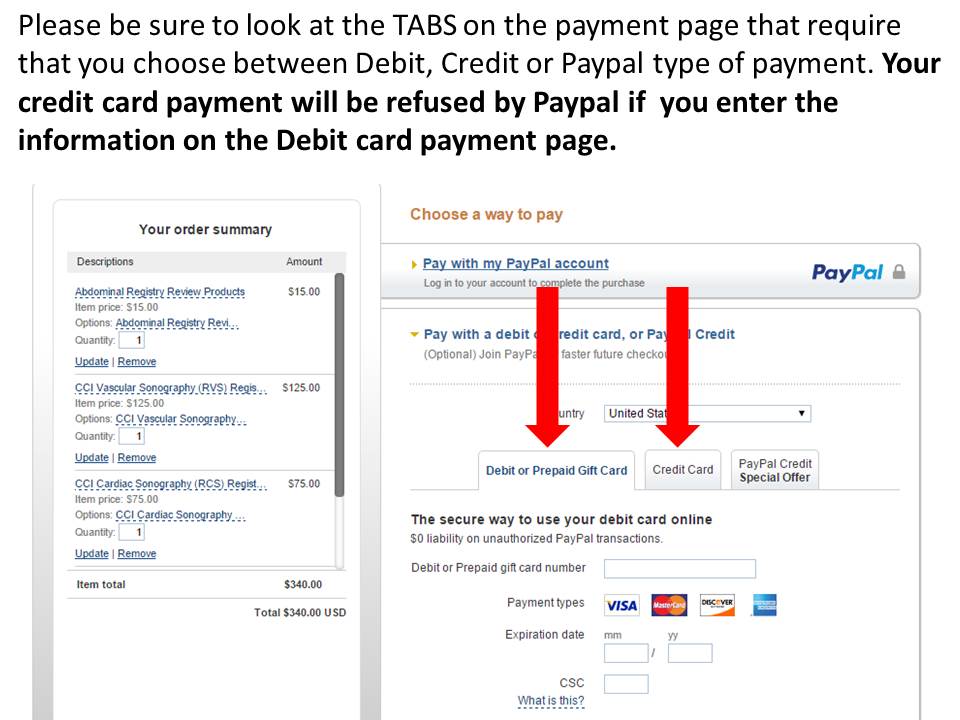 10. My payment will not go through when I try to make a payment? Who can assist me with this?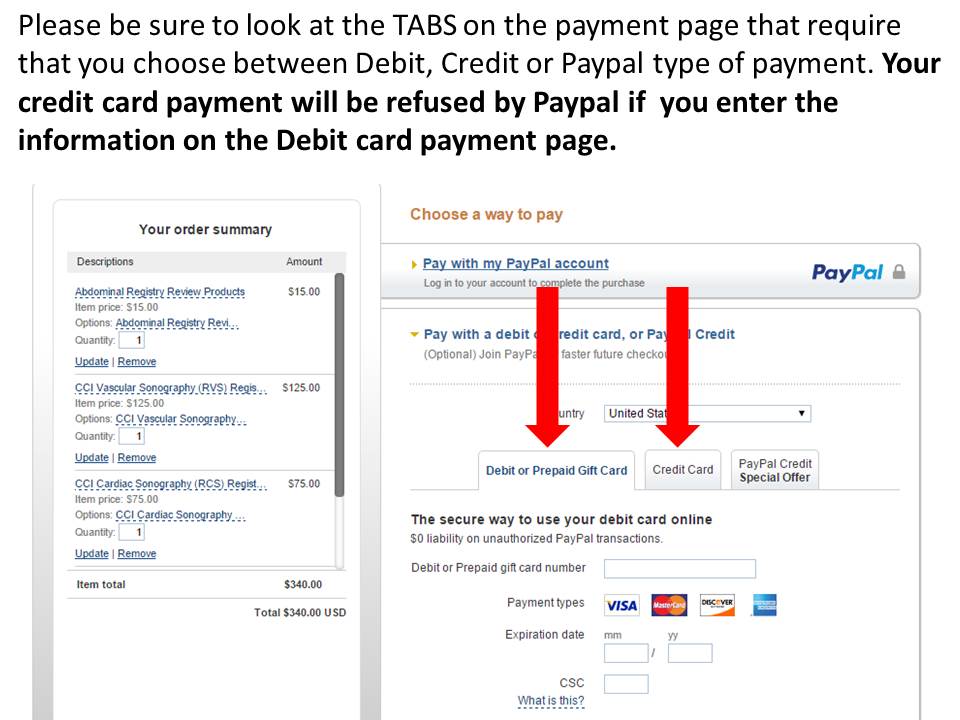 When using the Guest Checkout (no Paypal account), please be sure to look at the TABS on the payment page that require that you choose between Debit, Credit or Paypal type of payment. The payment page is the page that asks for your name, address and card number.
If the above information does not address the issue you are experiencing, please contact Paypal for assistance. Paypal Support. We apologize for the inconvenience but Paypal requires that the buyer contact them for assistance when using their site to complete a purchase. Because the call will require the discussion of the buyer's payment information, they must work with you to correct the issue. Because of the security provided by Paypal, we use them to protect your payment information. We do not receive any information regarding your credit card number or form of payment, only your name and what you purchased. In order to protect your payment information, they also require that they assist you with making a payment through their site.
11. I received an email that my payment went through but I still have not received my log in information, HELP!
Once your Paypal payment has been processed and approved, a user name and password will be sent to the email address that you provided on the New User Registration Form. This process usually takes less than 10-15 minutes but can take a full business day depending on when we receive your payment and if it is immediately verified by Paypal. Each user account is created by our staff and then this information is emailed to you. Please be sure to check your SPAM folder for your log in email. Depending on your filter settings, our email can sometimes be misdirected there.
12. What if my log in and password do not work to gain access to materials I have registered for?
Please send an email to support@ultrasoundregistryreview.com stating the issues encountered when attempting to log in to URR. Please include details on what products you are trying to access and what type of device you are using to access the materials. Once your issue has been resolved your access time frame will be adjusted to accommodate for the time lost during the inability to log in.
13. I lost my user name and password. HELP!
If you cannot locate your log in information, please send an email to info@ultrasoundregistryreview.com. You will receive an email with your log in instructions.
14. Do I receive CME credit for accessing the presentations and practice exams?
Currently ALL Registry Review Courses offer 5 - 7 SDMS approved CME credits. You will have up to 3 attempts to successfully complete the CME post test with a score of 70% or higher. A course evaluation form must also be submitted in order to process your certificate. You will receive an email from the SDMS with your certificate. More information on applying for the CME credits is listed under on the CME Credits page.
15. Will the CME credits be accepted by the ARDMS®, CCI® and ARRT®?
Yes. The credits are awarded to you through the Society of Diagnostic Medical Sonographers (SDMS). The ARDMS®, CCI® and ARRT® currently list the SDMS as an approved CME provider for maintaining compliance with your certification requirements.
16. I am already certified in the specialty but I would like to earn CME credit, do I still have to pay the full access fee for the materials?
No, If you are already certified in an specialty that you would like to review, you will only need to submit the $40 processing fee for up to 7 SDMS approved CME credits per course. Please visit the CME Credits page for more information.
17. I reviewed the course and took the post test but I still have not received my CME certificate. Why?
After completing the post test with a score of 70% or greater, you must complete the course evaluation form on the site. The course evaluation form is available on the CME Credits page. Once we receive both items, your certificate will be emailed to you from the SDMS within 3 - 5 business days. Certificates are processed on a weekly basis on Monday. Please Note: Because the email contains a link to your certificate, it may be mistaken for spam and placed in your junk folder. If you have completed both items but still did not receive a certificate, please email us at info@ultrasoundregistryreview.com.
18. Can I print a copy of the materials ?
The educational materials on the site are intended to be accessed online only for the length of the subscription purchased. No duplication is permitted.
19. What if I am having trouble viewing videos?
Our videos are encoded as H.264 MP4 video files using HTML5 standard code. Most major browsers will play these files without problems. If you are having issues viewing the videos, please try using Google Chrome.

If you are experiencing any type of technical issue with the site, please contact us immediately for assistance at support@ultrasoundregistryreview.com. Technical support is available daily between 8am and 9pm EST.
ARDMS® is a registered trademark of the American Registry for Diagnostic Medical Sonography and is not associated with this site.
CCI ® is a registered trademark of the Cardiovascular Credentialing, Inc. and is not associated with this site.